Stonewall de Roland Emmerich: transfobia, racismo e branqueamento
Vai estrear este ano (mais) um filme sobre os acontecimentos que são largamente considerados como o princípio do moderno movimento pelos direitos LGBT, curiosamente no mesmo ano em que o Supremo Tribunal dos Estados Unidos legalizou a igualdade no casamento em todos os estados.
Stonewall, realizado pelo conhecido cineasta Roland Emmerich (Universal Soldier, Stargate, Independence Day, entre outros), explora os levantamentos ocorridos no Stonewall Inn em New York em Junho de 1969.
Tal como aconteceu com Woodstock, a revolta de Stonewall, que durou seis dias, conquistou um estatuto quase mitológico, com muito mais gente do que seria fisicamente possível a clamarem a sua presença e explicando como tudo começou. Contrariamente a muitas dessas pretensões, não se sabe exactamente como se iniciaram os protestos.
Quem foi a primeira pessoa a resistir ao constante assédio policial que já não se podia suportar? Quem atirou a primeira garrafa vazia de cerveja, dando assim início ao princípio do fim da exclusão social e discriminação de que já estavam fartos?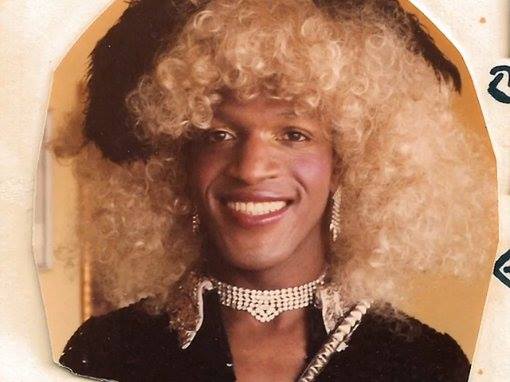 Muitas fontes apontam para Marsha P Johnson, que definitivamente se encontrava lá quando a polícia iniciou a rusga ao mafioso bar, um dos poucos em New York que aceitava clientela queer. Testemunhas dizem que Johnson (o P vem de Pay It No Mind), uma mulher trans afro americana, atirou um copo de shots contra um espelho numa atitude desafiadora, no que ficou conhecido como "the shot glass heard around the world" (qualquer coisa como o partir do espelho ouvido em todo o mundo).
Uma destas testemunhas era Sylvia Rivera, uma jovem trans Porto Riquenha, na altura com 17 anos, que mais tarde afirmou que os Stonewall Riots foram "iniciados pelas rainhas da rua da época às quais eu pertencia". A jovem Rivera não era tão nova que não se apercebesse de que estavam a fazer história. "Esta é a revolução!" gritou naquela electrizante noite.
Johnson e Rivera estavam destinadas a ser baluartes da comunidade trans (e LGBTI), juntas formaram o Street Transvestite Action Revolutionaries (STAR). "STAR era para os gays da rua, os sem abrigo, e para qualquer pessoa que necessitasse de ajuda naquele tempo," explicou Rivera. Johnson também pertenceu ao Gay Liberation Front, focado em eliminar leis discriminatórias, e Rivera juntou-se ao Gay Activists Alliance (GAA) e, segundo o jornal Village Voice, "foi detida por pular os muros da Câmara Municipal num vestido e com saltos altos para protestar uma reunião à porta fechada" que debatia uma lei civil sobre a comunidade LGBTI.
Naturalmente assumir-se-ia que ambas, Marsha P Johnson e Sylvia Rivera seriam personagens principais no filme a estrear, certo?
EEEEEEEEEhhhh….errado.
Os principais actores em Stonewall são Jeremy Irvine, Ron Perlman, e Jonathan Rhys Meyers. Com efeito, os cinco principais personagens são todos brancos e não trans. Johnson, uma personagem menor - o seu nome aparece quase no final da listagem de actores - é protagonizado por um actor negro cis. Rivera nem sequer é mencionada.
Evidentemente que ainda não vi o filme, portanto como sei isto? Simples. Como o Grupo Transexual Portugal tem um grupo dedicado a noticias trans, o Notícias Trans, recebo diariamente uma média de 100 emails de todo o mundo com acontecimentos que se vão passando. E com opiniões e comentários de muitos blogues. E no meio desta amálgama de emails vão aparecendo alguns com descrições e opiniões de pessoas que por algum motivo tiveram acesso ao filme. Mistério revelado.
Quantas e quantas vezes não foram já ocultadas da população as comunidades trans, afros e latinas nos media e em documentários e filmes? Quantas vozes de protesto já não se levantaram? O branqueamento (também no sentido literal) em cinema encontra-se tão enraizado que quase parece ser inútil reclamar mais um branqueamento.
Mas aqui fica mais um protesto que se quer alto e em bom som e bem visível, precisamente porque foca grupos historicamente mais marginalizados e perseguidos, mesmo dentro da comunidade LGBTIetc. com uma boa dose de transfobia e racismo. Em vez de mostrar a comunidade no seu todo, com toda a diversidade nela contida, o filme mostra as revoltas como que iniciadas e dominadas por homens brancos cis.
Transfobia e racismo existem por todo o lado, mas nos Estados Unidos o machismo branco domina quase todos os aspectos da sociedade, posicionando os homens brancos cis como os motores culturais e políticos da mudança. E Hollywood é um espelho microcósmico deste estado de coisas, em que o mundo é filtrado pela perspectiva de homens brancos cis.
E assim Stonewall, despojado de seu verdadeiro contexto histórico, é reembalado como, segundo Roland Emmerich, uma história "sobre estes miúdos loucos de Nova York, e um camponês que se junta ao grupo, e no final começam este motim e mudam o mundo. "
Esta não é a primeira vez que Stonewall foi branqueado. Um documentário intitulado Stonewall Uprising, também passou por cima do papel desempenhado pelas mulheres em geral, e pelas afro americanas e latinas.
As mulheres sempre foram excluídas, não da sua participação efectiva na história - pois sempre encontrámos maneiras de participar - mas de serem reconhecidas como parte da história. Se pertencerem a minorias raciais ainda mais e se forem trans ainda mais.
Com efeito, assim que Stonewall iniciou a máquina da mudança, não demorou muito para que as mulheres que efectivamente "iniciaram este motim" fossem postas de lado. Sylvia Rivera abandonou o GAA em protesto contra a sua decisão de eliminarem os direitos de drags e travestis (termos usados na época) da sua agenda, com a desculpa de tornarem a sua causa mais "aceitável".
"Quando as coisas começaram a ficar mais mediáticas," afirmou Rivera a um jornalista em 1995, "foi como que, 'não precisamos mais de ti.'"
Uma atitude similar aconteceu em Portugal, como é sabido. Quando da inclusão da orientação sexual no Artº 13º da Constituição Portuguesa, a proposta feita na altura pela ILGA Portugal incluía a identidade de género junto com a orientação sexual. O PS, que na altura governava, considerou que não compreendia o conceito da identidade de género e propôs a entrada da orientação sexual na Constituição se abandonassem a pretensão da identidade de género. Na altura pertencente à ILGA Portugal, a representante trans, a saber Jó Bernardo, não achou piada nenhuma, obviamente, e protestou contra a proposta e contra a aceitação da mesma pela ILGA Portugal. E tal como aconteceu a Johnson e Rivera, foi excluída (ou saiu) da ILGA Portugal, de que resultou a formação posterior da aT (Associação para o estudo e defesa do direito á identidade de género), presentemente extinta.
Mais, este ano houve uma proposta vinda de um colectivo supostamente LGBTetc, que desejava a não inclusão de reivindicações poli no manifesto da marcha. As principais razões que enumerava para isso eram: que com esta inclusão iríamos antagonizar o nosso público abrindo a porta para que depois as pessoas pudessem opor-se a tudo o resto que reivindicamos "como a homoparentalidade"; pelo número de pessoas poliamorosas ser "extremamente reduzido", (parafraseando) "existem provavelmente mais pessoas nas aldeias que têm relações com animais do que poliamorosos"; e que as pessoas poliamorosas não são LGBT (parafraseando) "são heterossexuais, na sua maioria homens que querem ter relações com mulheres". Julgo também ter havido menção de que "senão ainda pensam que somos o Islão" entre outros argumentos igualmente.. fóbicos. Não são estes argumentos demasiadamente parecidos com o que aconteceu com Rivera? O mesmo colectivo, que há uns anos atrás, tinha como alvo a população trans, virou agora as baterias contra as pessoas poliamorosas. Foi muito por causa desse colectivo que as artistas trans do transformismo abandonaram a marcha alguns anos atrás. Parece que nem a expulsão temporária da organização da marcha durante alguns anos lhes ensinou alguma coisa. Mas como se costuma dizer "burro velho não aprende línguas". E isto em pleno século XXI, pasme-se.
Parece que a diferença só é aceite desde que não seja muito diferente.
Johnson juntou-se nos anos 80 ao Act Up tornando-se uma figura de topo na luta contra a sida em New York até à sua morte.
Ambas Johnson e Rivera tiveram fins prematuros. Rivera sucumbiu a problemas no fígado em 2002, tendo vivido a maior parte da sua vida nas ruas, enquanto o corpo de Johnson foi encontrado a boiar no rio Hudson em 1992. A sua morte foi declarada como suicídio, para frustração dos seus amigos que exigiram mais investigações. O caso foi reaberto em 2012 mas nunca ninguém foi acusado.
A banda Antony and the Johnsons teve este nome em sua homenagem.
Estas duas mulheres dedicaram as suas vidas às causas LGBT. A sua exclusão social custou-lhes as suas vidas. Agora, a mesma sociedade apropriou-se das suas lutas e procura apagá-las da sua própria história.
Enquanto forem homens brancos cis a controlarem a narrativa, tentarão sempre apagar o resto de nós. Mas Marsha P Johnson e Sylvia Rivera são nomes que devem sempre ser relembrados.